Laptop Stand
EGNB-100 Laptop / Tablet stand
Due to the convenience of operation, it is easy for people to forget to maintain the correct posture. Eastern Global has released height-adjustable ergonomic laptop/tablet stand, so that users can improve your posture.
Laptop Stand is with width and six options of visual height adjustment, which can adjust to appropriate ergonomic height according to the user. Not only increases the heat dispersal space, but also adopts a foldable design. Made by aluminum and plastic with slim shape and light weight is easy to carry on.

Features
The main material is aluminum. The surface is treated with anodizing process, which will never fade or oxidize, fashionable and beautiful, and durable.
Adjustable for 6 different tilt positions, conform to ergonomics, suitable for long-term computer users, can also relieve shoulder, neck, and waist pain.
Foldable design, small size, easy to carry.
With special structural design, has strong support and light weight, can bear heavy weight, and can support 17-inch laptops.
The hollowed-out design helps ventilation and heat dissipation, which can avoid overheating problems and reduce the performance degradation of laptops due to overheating.
The contact surface between the laptop stand and the desktop is protected by eva pads, which are non-slip and scratch-resistant, so that the notebook and the desktop are not scratched.
Black neoprene bag applies as a mouse pad.
Multifunctional, in addition to being a laptop stand, it can also be used as a tablet stand.
NOTE: This product is an accessory for a laptop/tablet. Is designed to be used as part of a laptop workstation with a separate mouse and keyboard (not included) to improve body posture and increase comfort and work efficiency.

Specifications
Size: 253 x 183 x 10mm.
Available for 2 colors. (black/white)
Certification
Taiwan SGS
IF Product Design Award (2008)
Why Should You Use the EG Laptop Stand?
With the development of technology, laptops have become a more convenient part of our lives, we can work from anywhere, but it also makes us have wrong posture for a long time without knowing it.

Using Eastern Global Laptop Stand can help you improve these bad habits. We use 6-stage height elevation adjustment, allowing you to freely adjust the most suitable height in different environments. At the same time, we also have heat dissipation function, adopt a hollow design, and do not need to worry about overheating even working for a long time! In addition, we adopt a special structural and foldable design, which is strong and lightweight, able to withstand heavy weight and easy to carry.

Find the Ideal Height
Want to adjust the viewing angle and height of your laptop? Laptops are designed against ergonomic demands, and users need to balance wrong head and neck posture with wrong wrist posture. With Eastern Global Laptop/Tablet Stand, you can adjust the screen to a comfortable height and angle.

1. Use the "laptop/tablet stand" to hold the laptop high, so that the top of the screen is at eye level, and the neck does not need to be bent downwards. But it should not be too high to cause the shoulders to abduct.
2. Use an "external keyboard and mouse, or even a monitor", because the touchpad position of a notebook computer is in the middle and cannot keep the wrist in a neutral position.
3. Use the "mouse tray or keyboard tray" to reduce the bending angle of the elbow when typing and reduce the mouse-hand or keyboard-hand caused by bending for a long time.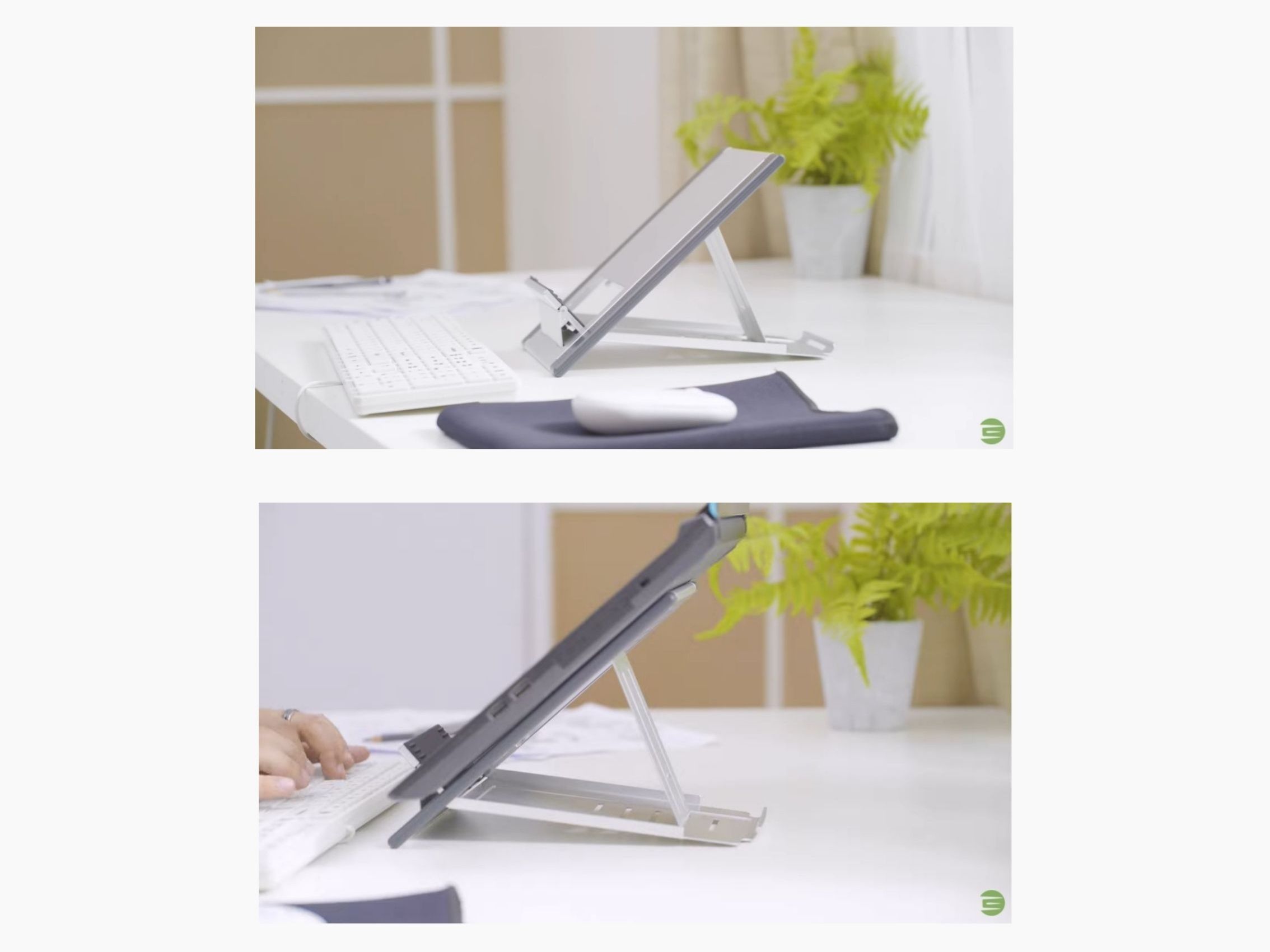 It is easy to fold up, with a slim profile and weighing only 0.5 kg, one of the smallest laptop stand on the market, and it can be carried with you anywhere. Comes with a soft black neoprene protective cover, which can double as a mouse pad, very suitable for storage and travel.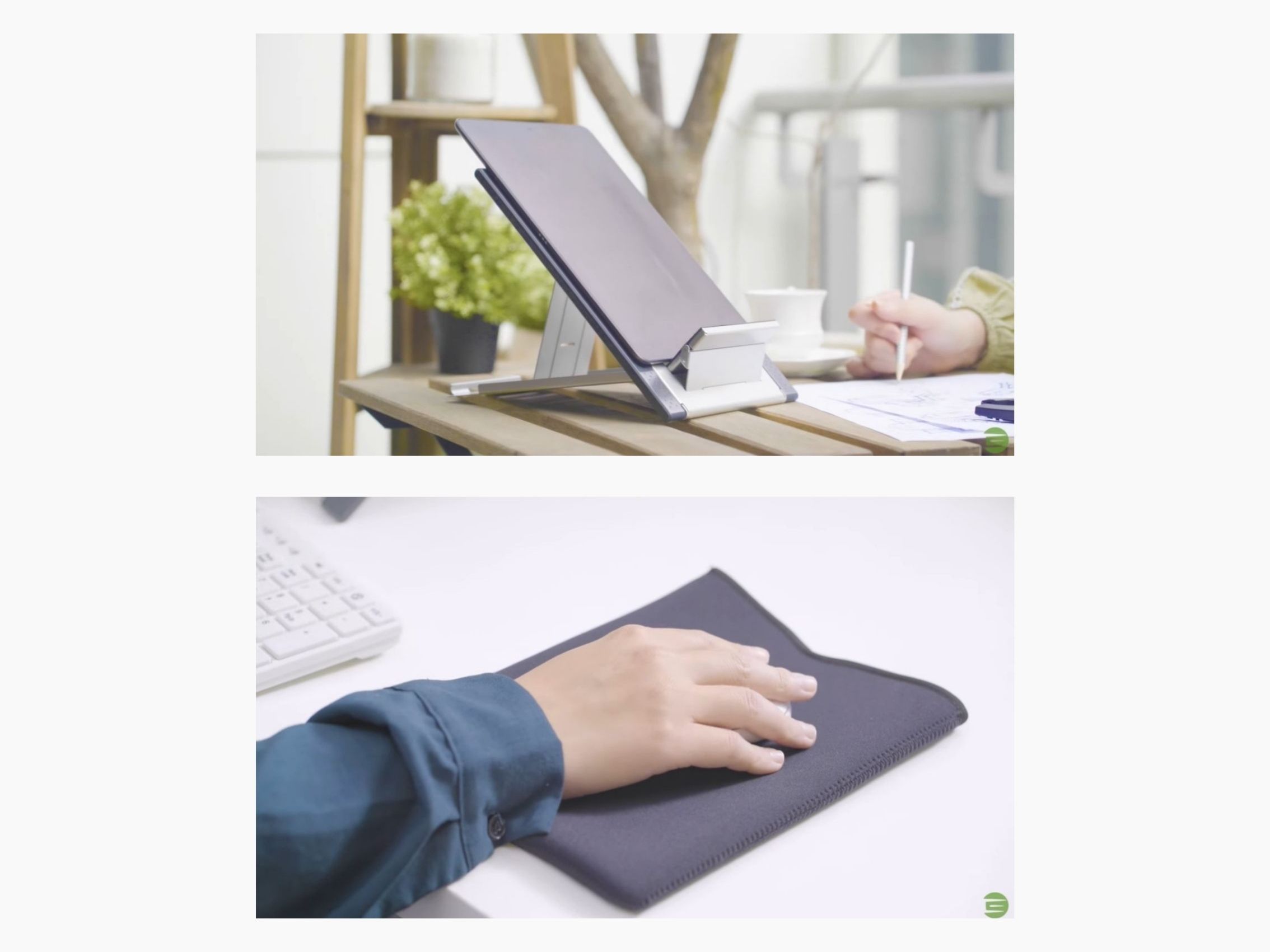 Other advantages of choosing Eastern Global
We have many years of ergonomic project experience and excellent ergonomic product design experience.
We have innovators who specialize in internal product development, continue to develop new products, and move towards the goal of ergonomics industry benchmarks.
We develop high-quality products that can be used for a long time to ensure their sustainability.
If the product stops working, we will provide internal repair services.
Our expert team and on-site personnel will provide you with friendly and competent advice.
Service Process
Pre-sales service: Provide product suggestions, drawing, price estimation, freight estimation, answer customer questions
In-sale services: provide customer solutions, provide product packaging information, suggest delivery methods, and deliver shipping services
After-sales service: customer complaint handling, assembly instructions, delivery documents provision
Delivery
We provide many delivery methods. Samples or small orders are suitable for express delivery (DHL, FEDEX, TNT, SF, etc.). Large orders are suitable for air and sea transportation. We have our own freight forwarders, of course, if you have your own express account or logistics mode, please let us know.
Warranty
3 years
Main Export Market
ASIA, MID-EAST, EUROPE, AFRICA, NORTH AMERICA, CENTRAL AMERICA, SOUTH AMERICA, ASIA-PACIFIC, OTHERS
Solution
Office Furniture / Security Center / Stock Exchange Center / Control Room / Workstation
Manufacturer
Made in Taiwan
Movies

Files Download

---
Best Sale
Eastern Global Laptop Stand Service Introduction
Eastern Global Corporation is Taiwan Laptop Stand supplier and manufacturer with more than 17 years experence. Since 2006, in the Computer Peripherals Industry, Eastern Global has been offering our customers high quality Laptop Stand production service. With both advanced technology and 17 years experience, Eastern Global always make sure to meet each customer's demand.
Eastern Global welcome you to view our high quality products
EGNB-200
and feel free to
Contact Us
.
---