LED Task Light
Flylux
Choose LED task lights from Eastern Global to help reduce eye fatigue and improve work efficiency.
LED task light is an important and indispensable part of the ergonomic workplace. If there is no LED task light but using an ordinary overhead light to illuminate the entire space, the energy efficiency of the lighting will be low. Whether studying, reading, or working, you need bright and comfortable light; the dimming device and flexible design with color temperature make it your perfect work partner. Ergonomic task lighting can create a comfortable, flexible, and stimulating atmosphere. With a minimalist design and adjustable brightness to brighten your day with an affordable price.
Features
Dimmable design, suitable for different places and times
Touch switch button with indicator light for easy operation in the dark
Using LEDs from Nichia, the largest LEDs manufacturer in Japan, the light source is stable and comfortable
Adjustable lamp head and lamp arm, the lighting angle can be adjusted according to needs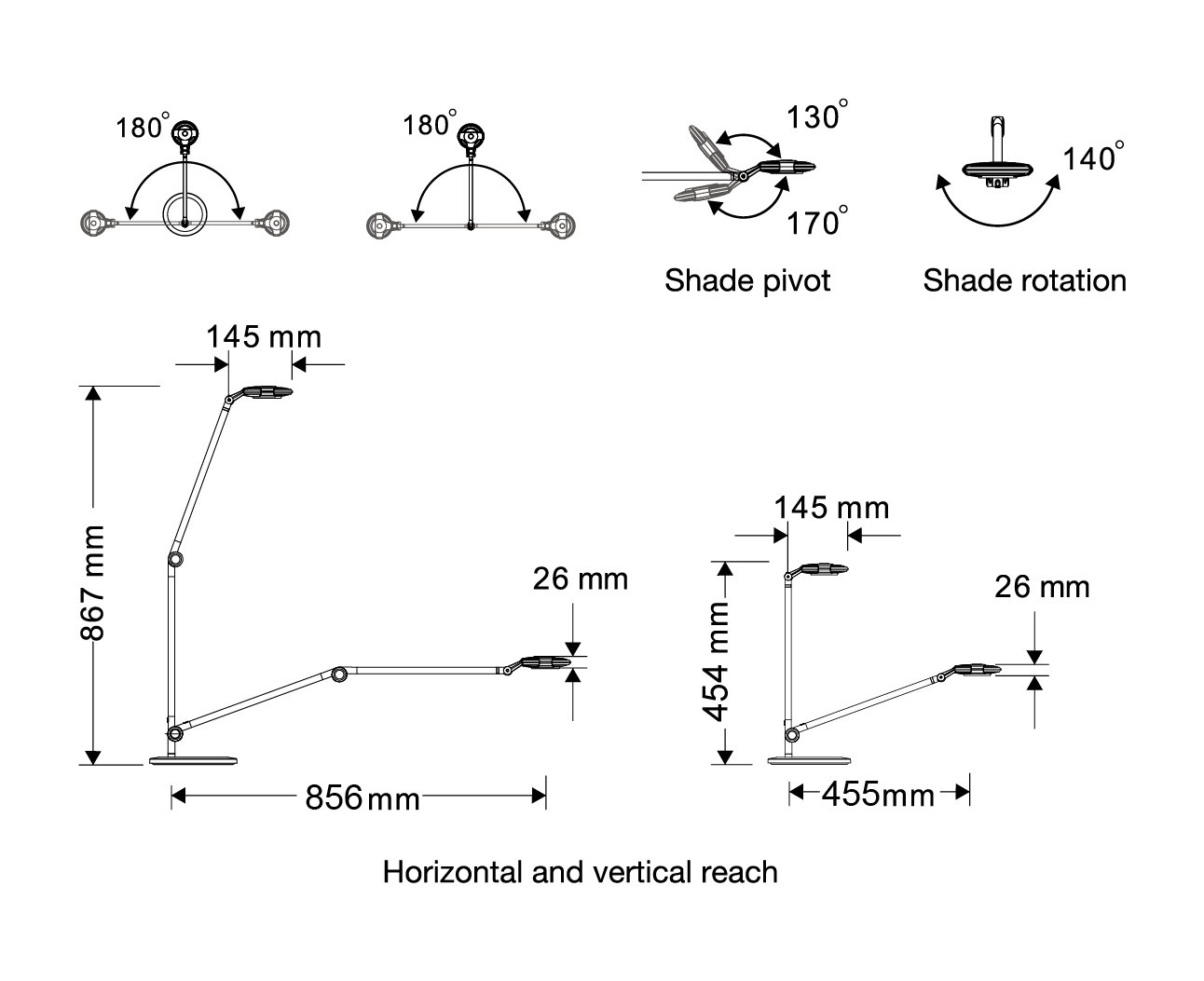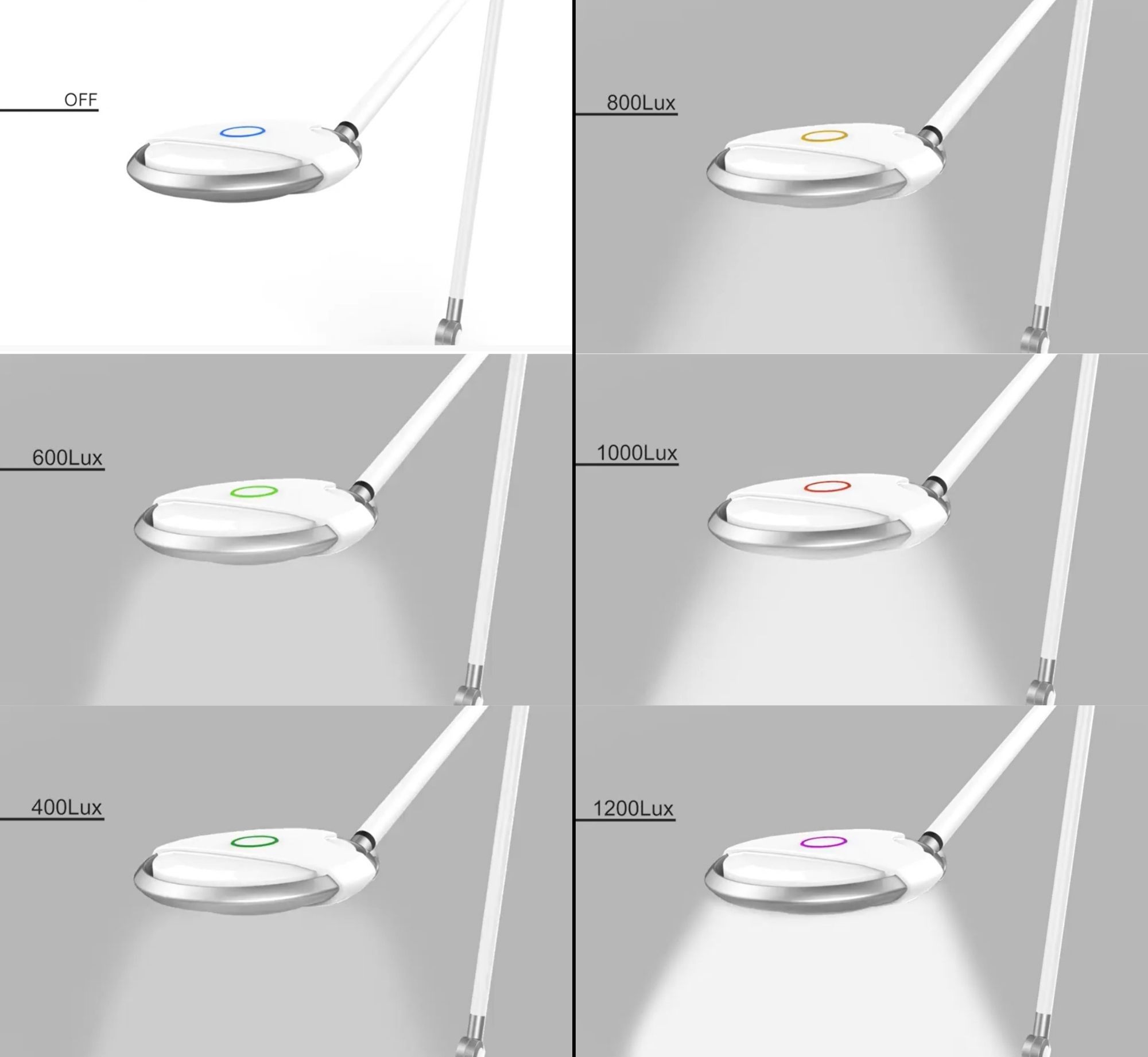 Specifications
LED: Nichia
Voltage: 12V.1A
LED power consumption: 4W
Color temperature (CCT): 4000K
Color Rendering Number (CRI): 85
Illuminance (Lux): 1200lux (40cm high)
Lumen: 430 lumens
Color: Silver / Black
Certification
CE-LVD, EMC, Eye Safety, and BSMI
Why Should You Use the EG LED Task Light?
Although LED task light have many advantages over CFL lamps, such as lower energy costs and longer lifetime, the light quality of LEDs may vary greatly, especially in lighting, spotlight, shadows, glare, and light contrast ratios and more.
Eastern Global uses LEDs from Nichia, Japan's largest LEDs manufacturer, whose efficacy has many advantages compared to CFL bulbs, such as lower energy costs and longer lifetime. The big advantage is that the light quality, especially in terms of lighting, spotlighting, shadows, glare, light contrast, etc. LED (Light Emitting Diode) lights are ideal for work lights because they are safer for the human retina, use 85% less electricity than traditional light bulbs, and 20 times longer service life. Choose LED lights is the first step in practicing sustainable living, saving money, and saving energy.

The Eastern Global task light adopts the design of the round lamp head, which is different from the long lamp head in the general market. The round lamp head produces less shadow and is less harmful to the eyes. And we use the LED of Nichia that only one light bulb can achieve the brightness of 10 light bulbs of other brands, and it is relatively saving electricity.
Adjust the brightness freely
The correct and comfortable lighting keep you alert and focused, reduce eye strain and prevent headaches. Eastern Global FLYLUX task lights can adjust the brightness with the button on the lamp head and can cycle between five preset brightness settings.
Three Installation Options: Clamp Mount, Grommet Mount and General base
Use clamps to install on a table ranging from thickness of 1-10CM without the need for grommets. Using this method, can also be installed around the desk to save space at the workstation.

Slat Wall Mounting: Clamps can be clipped to the screen.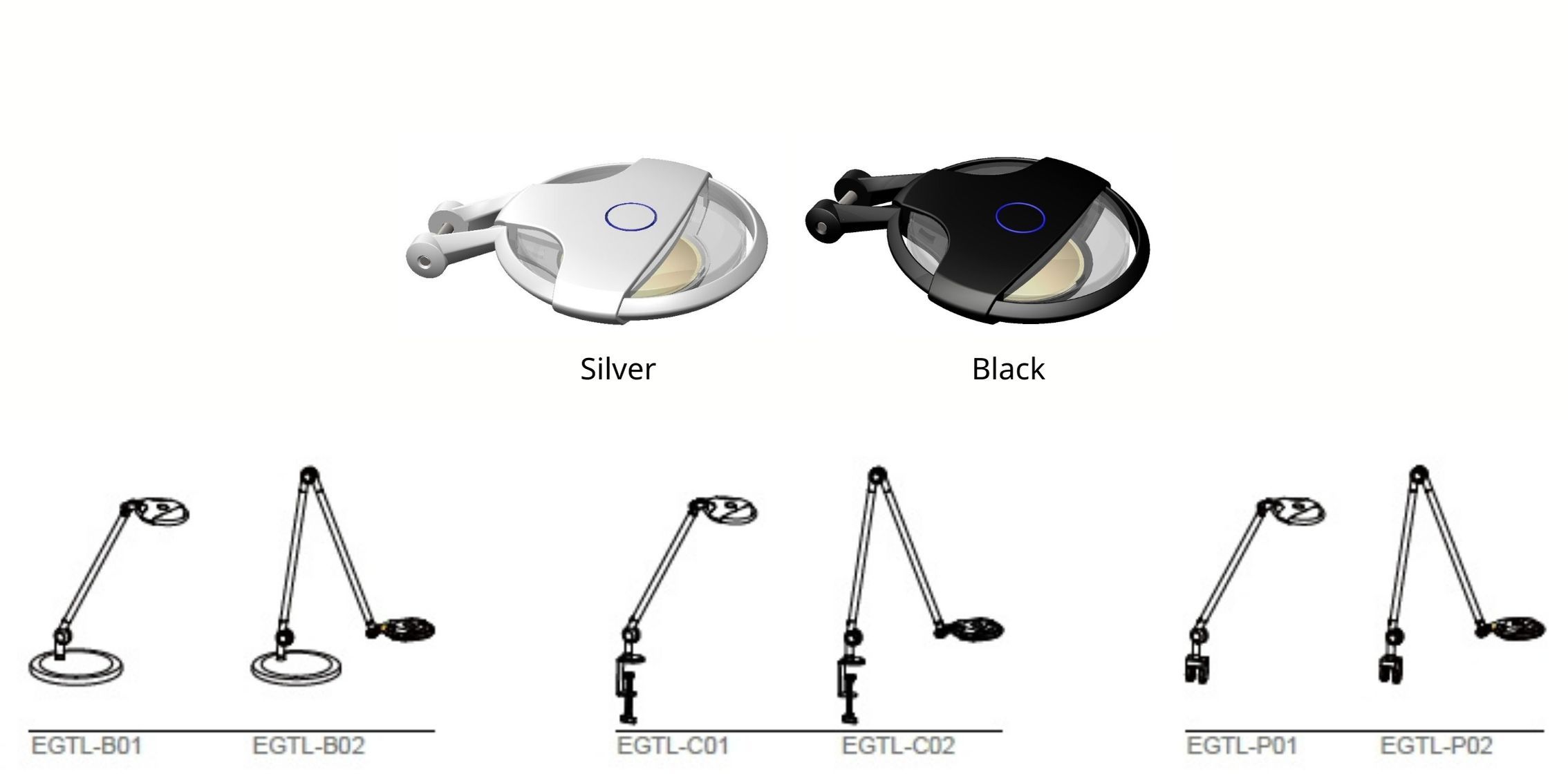 Other advantages of choosing Eastern Global
We have many years of ergonomic project experience and excellent ergonomic product design experience.
We have innovators who specialize in internal product development, continue to develop new products, and move towards the goal of ergonomics industry benchmarks.
We develop high-quality products that can be used for a long time to ensure their sustainability.
If the product stops working, we will provide internal repair services.
Our expert team and on-site personnel will provide you with friendly and competent advice.
Service Process
Pre-sales service: Provide product suggestions, drawing, price estimation, freight estimation, answer customer questions
In-sale services: provide customer solutions, provide product packaging information, suggest delivery methods, and deliver shipping services
After-sales service: customer complaint handling, assembly instructions, delivery documents provision
Delivery
We provide many delivery methods. Samples or small orders are suitable for express delivery (DHL, FEDEX, TNT, SF, etc.). Large orders are suitable for air and sea transportation. We have our own freight forwarders, of course, if you have your own express account or logistics mode, please let us know.
Warranty
2 years
Main Export Market
ASIA, MID-EAST, EUROPE, AFRICA, NORTH AMERICA, CENTRAL AMERICA, SOUTH AMERICA, ASIA-PACIFIC, OTHERS
Solution
Office Furniture / Security Center / Stock Exchange Center / Control Room / Workstation
Manufacturer
Made in Taiwan
Movies
Best Sale
Eastern Global LED Task Light Service Introduction
Eastern Global Corporation is Taiwan LED Task Light supplier and manufacturer with more than 17 years experence. Since 2006, in the Computer Peripherals Industry, Eastern Global has been offering our customers high quality LED Task Light production service. With both advanced technology and 17 years experience, Eastern Global always make sure to meet each customer's demand.
---