USB HUB Add On Power
EGUB-100 Flycharger USB HUB Add On Power
Its space-saving and easy-to-setup features can help to keep your working space neat and tidy while increasing the working efficiency.
Flycharger USB HUB Add On Power is a widely compatible user-centered device that provides easy portability, fast charging, and data transmission. And can be used with not only Eastern Global's monitor arms but also widely used in other brands' (diameter within 35-42mm).

Features
The most unique design in the industry.
Combined with multi-function, thin and delicate design, it is easy to carry.
Mercury free and RoHS compliant
Certification: CE. FCC and BSMI
It is widely applicable to not only suitable for Eastern Global original monitor arms but other brands' screen holders. (diameter 35-42mm)
Handy High-speed power charging, data transmission and user-friendly compatibility.
Supported systems: Windows 7 / 8 /8.1 / 10 .Mac OS 10.10 to 10.13.
The USB interface supports external devices such as keyboard, mouse, and external hard disk.
Specifications
Voltage : Direct Current (DC) 12V.2A
1 port USB3.1 1.5A x1 and 1 port Gen 1A 2.4A x1 and 1 port Type-C 0.9A x1
Operation temperature: 0 to 40 degree
Operation Humidity : 10% -90% non-condensing
Storage temperature : -20 to 70 degree
Color: Black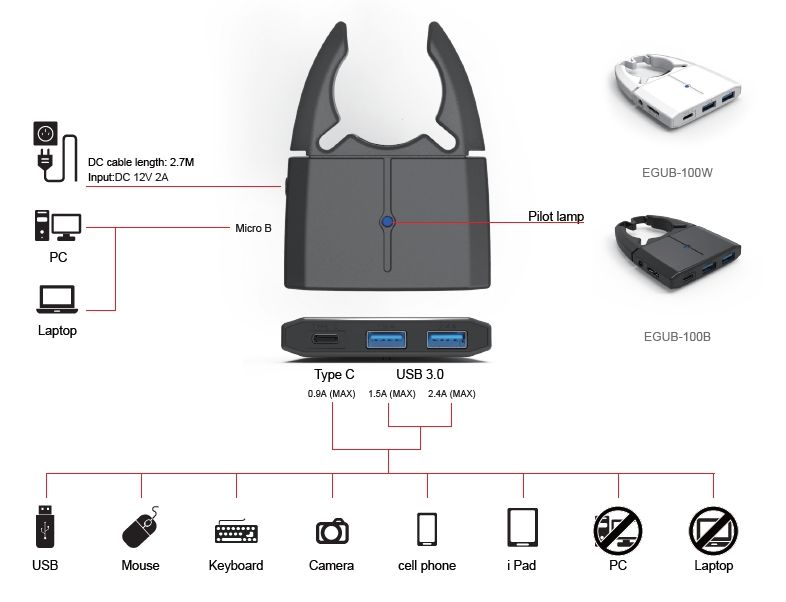 Certification
CE (Conformite Europeenne)
FCC (Federal Communications Commission)
BSMI (Bureau of Standards, Metrology and Inspection)
Five Installation Options: Clip-on, Pole Mount, Toolbar System, Clamp Mount, and Under Desk Mount
1. Clip-on mount: The basic style, can be used with Eastern Global monitor arm, and also suitable for other brand's monitor arm (diameter 35-42mm).
2. Under desk mount: Install it under the desktop to save desktop space and help keep the desktop tidy.
3. Clamp mount: It can be used on table with a thickness of 1-10 cm. Installed around the desk to save desk space.
4. Pole mount (for Dragonfly): It is installed on the Dragonfly series of Eastern Global monitor arm.
5. Pole mount (for Tool Bar): It is installed on the Tool Bar series of Eastern Global monitor arm.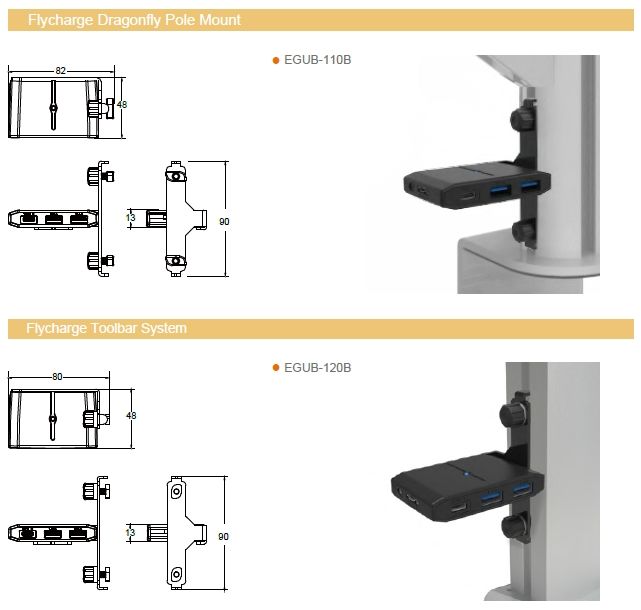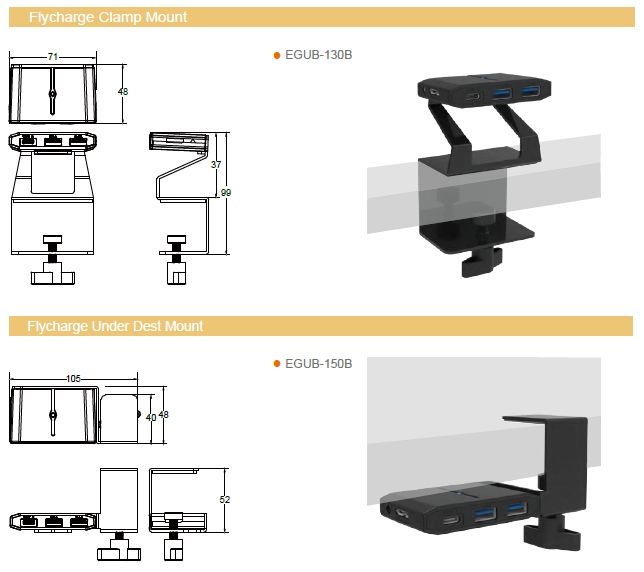 Other advantages of choosing Eastern Global
We have many years of ergonomic project experience and excellent ergonomic product design experience.
We have innovators who specialize in internal product development, continue to develop new products, and move towards the goal of ergonomics industry benchmarks.
We develop high-quality products that can be used for a long time to ensure their sustainability.
If the product stops working, we will provide internal repair services.
Our expert team and on-site personnel will provide you with friendly and competent advice.
Service Process
Pre-sales service: Provide product suggestions, drawing, price estimation, freight estimation, answer customer questions
In-sale services: provide customer solutions, provide product packaging information, suggest delivery methods, and deliver shipping services
After-sales service: customer complaint handling, assembly instructions, delivery documents provision
Delivery
We provide many delivery methods. Samples or small orders are suitable for express delivery (DHL, FEDEX, TNT, SF, etc.). Large orders are suitable for air and sea transportation. We have our own freight forwarders, of course, if you have your own express account or logistics mode, please let us know.
Warranty
3 years
Main Export Market
ASIA, MID-EAST, EUROPE, AFRICA, NORTH AMERICA, CENTRAL AMERICA, SOUTH AMERICA, ASIA-PACIFIC, OTHERS
Solution
Office Furniture / Security Center / Stock Exchange Center / Control Room / Workstation
Manufacturer
Made in Taiwan
Movies

Files Download

---
Best Sale
Eastern Global USB HUB Add On Power Service Introduction
Eastern Global Corporation is Taiwan USB HUB Add On Power supplier and manufacturer with more than 17 years experence. Since 2006, in the Computer Peripherals Industry, Eastern Global has been offering our customers high quality USB HUB Add On Power production service. With both advanced technology and 17 years experience, Eastern Global always make sure to meet each customer's demand.
---