CPU Holder
EGCP-100 CPU Holder
Modern work environments require mobility and interactive space, expand your workspace with Eastern Global's CPU Holder.
CPU Holder is designed to solve the inconvenience of using the CPU. Thinking from an ergonomic point, the top slide rail can be rotated 360 degrees, which is convenient for the use of back-end functions and store your CPU below work surface to protect against dust and save workspace. An anti-theft kit can be installed for option.
Features
Suspended design, which can save more space and keep the CPU dust-free when installed under the desktop.
Height and width adjustment, suitable for all sizes of CPUs.
360° rotation, which is more convenient for cable installation and maintenance of the CPU.
Slide rail design, easy to push and pull.
The whole frame is made of steel, and the surface adopts permanent baking paint.
The main frame has anti-theft kit design to prevent the CPU from falling off.
Specifications
Max. loading 25 Kgs (55 labs)
Installation method: slide rail installation or fixed installation.
Adjustable for height & width
Volume Range:
(a) H: 11.8" (30cm)
(b) W: 5.3" (13.5cm)
(c) D: 9.8" (25cm)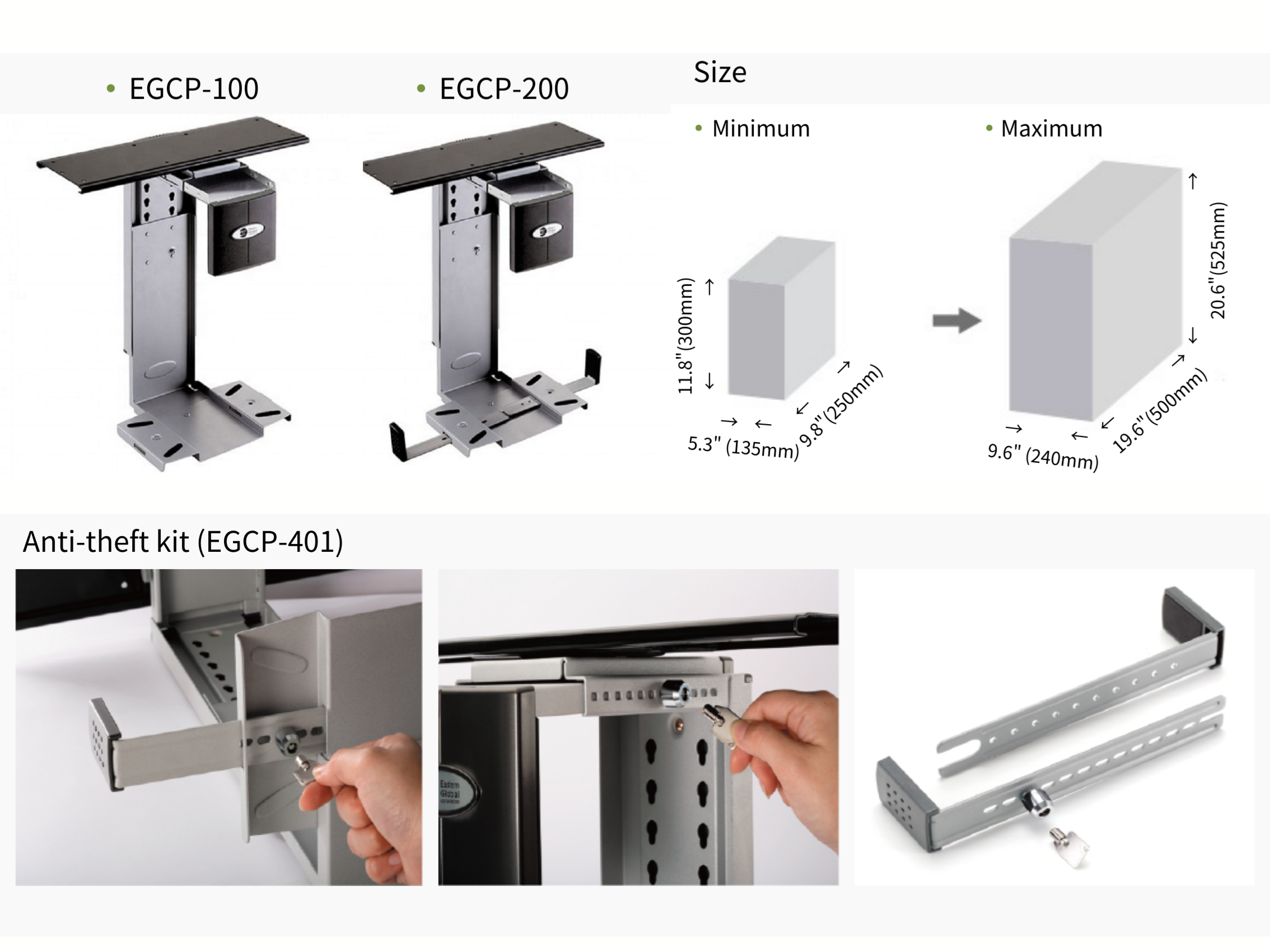 Certification
Taiwan SGS
Why Should You Use the EG CPU Holder?
Eastern Global CPU Holder is a simple and space-saving device that can hang under the desktop to avoid the damage caused by the wet, dirty, and dusty from the floor. The innovative track design makes it easy to push and pull without getting stuck, smooth, and convenient, you can choose a satisfactory position according to your needs. With the 360-degree rotation function, whether it is plugging cable, maintenance, disassembly, assembly, or cleaning, it can all be done easily!

Slide rail design with swivel hanger - 360 degree rotation
Based on the slide rail design, and added more rotating structure modules, the placement of the CPU is more flexible. Provides a 360-degree rotation angle, allowing you to easily access the ports and cables on the back of the CPU, no longer have to worry about the difficulty of aligning the correct position when inserting the USB and the headphone.
Other advantages of choosing Eastern Global
We have many years of ergonomic project experience and excellent ergonomic product design experience.
We have innovators who specialize in internal product development, continue to develop new products, and move towards the goal of ergonomics industry benchmarks.
We develop high-quality products that can be used for a long time to ensure their sustainability.
If the product stops working, we will provide internal repair services.
Our expert team and on-site personnel will provide you with friendly and competent advice.
Service Process
Pre-sales service: Provide product suggestions, drawing, price estimation, freight estimation, answer customer questions
In-sale services: provide customer solutions, provide product packaging information, suggest delivery methods, and deliver shipping services
After-sales service: customer complaint handling, assembly instructions, delivery documents provision
Delivery
We provide many delivery methods. Samples or small orders are suitable for express delivery (DHL, FEDEX, TNT, SF, etc.). Large orders are suitable for air and sea transportation. We have our own freight forwarders, of course, if you have your own express account or logistics mode, please let us know.
Warranty
3 years
Main Export Market
ASIA, MID-EAST, EUROPE, AFRICA, NORTH AMERICA, CENTRAL AMERICA, SOUTH AMERICA, ASIA-PACIFIC, OTHERS
Solution
Office Furniture / Security Center / Stock Exchange Center / Control Room / Workstation
Manufacturer
Made in Taiwan
Files Download

---
Best Sale
Eastern Global CPU Holder Service Introduction
Eastern Global Corporation is Taiwan CPU Holder supplier and manufacturer with more than 17 years experence. Since 2006, in the Computer Peripherals Industry, Eastern Global has been offering our customers high quality CPU Holder production service. With both advanced technology and 17 years experience, Eastern Global always make sure to meet each customer's demand.
---