Keyboard Tray (knob mechanism) - with Round Mouse Tray
EGK-700 Keyboard Tray
The adjustable keyboard tray is a great way to provide ergonomic advantages and greater levels of comfort for employees.
Eastern Global Adjustable Keyboard Tray can install the keyboard and mouse under the desktop to save working space. When using the keyboard and mouse, the hands can hang naturally without putting it on the desktop. At the same time, can also make your posture correctly and keep you away from the screen! In addition to the retractable functions, the ergonomic keyboard system has also added a tilt angle adjustment function! Reduce pain from long typing!
Features
Use the single knob to adjust the height and tilt of the keyboard tray.
High-density MDF board, durable and strong. (MDF board outsourcing black PVC)
The material is sturdy steel structure, and the surface is rust-proof and painted with a durable black lacquer.
Comply with American ANSI/BIFMA X5.5-1998 SECTION 4 & 15 standard.
Loading weight great and can rotate 360 degrees horizontally.
A PU wrist pad is attached to the keyboard tray, allowing the wrist to get the best support during use.
The accessory is also compatible with most desks, easy installation.
Specifications
Friction track / 45cm (17.75 inches) length
Standard type / 2.25 inches length arm
Sliding and 360° rear swivel
5.75 inches of height adjustment
± 15 degree of tilt adjustment
Steel frame coated black
Compatible with most desks
The mouse holder can be installed on the left and right sides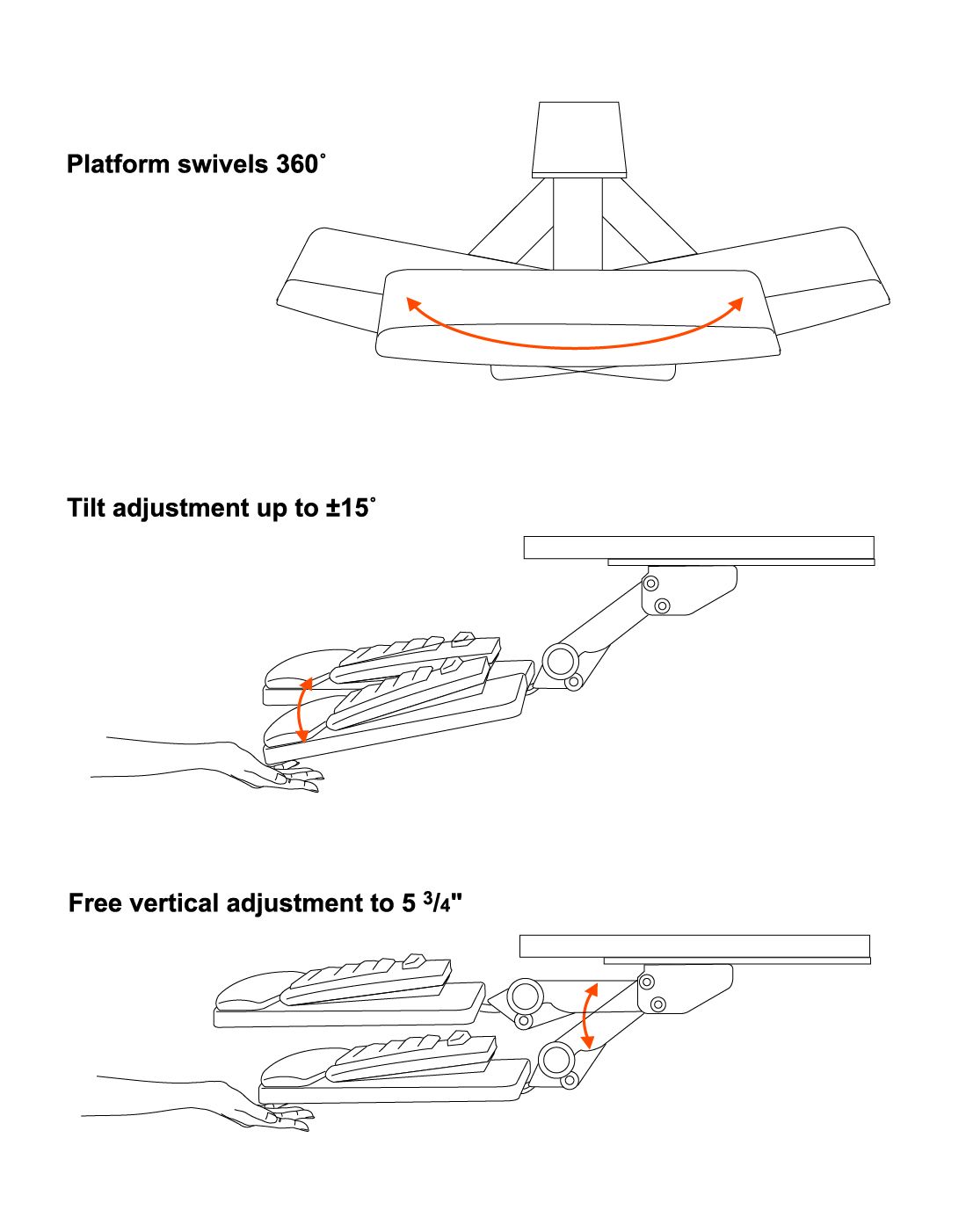 Certification
Taiwan SGS
Work More Comfortably
The adjustable keyboard tray provides the most natural and comfortable position for the wrist and arm. Our design provides more space for the user's knees, and the most special is that the front edge of the keyboard tray is equipped with a soft-touch PU wrist pad, so that your wrist will not hang when you use the computer. Typing at the correct height, distance and angle can reduce physical stress and pain. It is ergonomic and makes using the computer healthy and comfortable.
Special Appearance + Easy Installation
Adjustable keyboard and mouse tray, easy to install, just use the screws to install under the desktop, generally OA desks or home computer desks can be used! The appearance is mysterious black, hitechish and fashion, and the simple arc shape is the best choice for the digital age!
Other advantages of choosing Eastern Global
We have many years of ergonomic project experience and excellent ergonomic product design experience.
We have innovators who specialize in internal product development, continue to develop new products, and move towards the goal of ergonomics industry benchmarks.
We develop high-quality products that can be used for a long time to ensure their sustainability.
If the product stops working, we will provide internal repair services.
Our expert team and on-site personnel will provide you with friendly and competent advice.
Service Process
Pre-sales service: Provide product suggestions, drawing, price estimation, freight estimation, answer customer questions
In-sale services: provide customer solutions, provide product packaging information, suggest delivery methods, and deliver shipping services
After-sales service: customer complaint handling, assembly instructions, delivery documents provision
Delivery
We provide many delivery methods. Samples or small orders are suitable for express delivery (DHL, FEDEX, TNT, SF, etc.). Large orders are suitable for air and sea transportation. We have our own freight forwarders, of course, if you have your own express account or logistics mode, please let us know.
Warranty
3 years
Main Export Market
ASIA, MID-EAST, EUROPE, AFRICA, NORTH AMERICA, CENTRAL AMERICA, SOUTH AMERICA, ASIA-PACIFIC, OTHERS
Solution
Office Furniture / Security Center / Stock Exchange Center / Control Room / Workstation
Manufacturer
Made in Taiwan
Files Download

---
Best Sale
Eastern Global Keyboard Tray (knob mechanism) - with Round Mouse Tray Service Introduction
Eastern Global Corporation is Taiwan Keyboard Tray (knob mechanism) - with Round Mouse Tray supplier and manufacturer with more than 17 years experence. Since 2006, in the Computer Peripherals Industry, Eastern Global has been offering our customers high quality Keyboard Tray (knob mechanism) - with Round Mouse Tray production service. With both advanced technology and 17 years experience, Eastern Global always make sure to meet each customer's demand.
---