Dual Monitor Arms - Clamp or Grommet Mount for Light Duty
Meerkat Series EGNS-202D / 302D
The ergonomically monitor arm allows the screen to achieve precise position to improve work efficiency, comfort, and well-being.
The Meerkat series is a budget-friendly alternative to the Dragonfly series, offering a sturdy structure and versatile functions. It supports monitors weighing 2 to 9 Kgs (4.4 to 19.8 lbs) with screen sizes up to 34 inches. With ergonomic adjustments, you can easily find the most comfortable viewing angle. The quick release function allows for easy screen changes based on personal needs and available space. The monitor arm includes cable management to keep the workspace tidy by hiding cables. The tool storage design prevents tool loss and promotes organization. Additionally, there is an optional anti-theft kit to secure the screen and protect property.
Features
The tension can be set according to different screen weights
Easy installation, high applicability, no need to rely on tools to quickly inserted or replaced the screen
Improve working posture, relieve work fatigue or cervical discomfort caused by work
The screen can be adjusted to the best sight height, distance, and direction according to the individual sitting posture, reducing visual fatigue caused by reflections
Optional anti-theft kit to prevent the screen from being stolen
Tools are included in the monitor arm for temporary repairs
Long-distance monitor arm that can be unfolded and extended, keeping the space tidy and versatile
Flexibly change the screen position and orientation to share and communicate information on the screen
The cable management can integrate all power cables to keep your work environment neat and simple
Simple and practical design, neat and simple appearance, suitable for office and home use
The arm is made of aluminum alloy, which is sturdy and durable, and can support large-size screens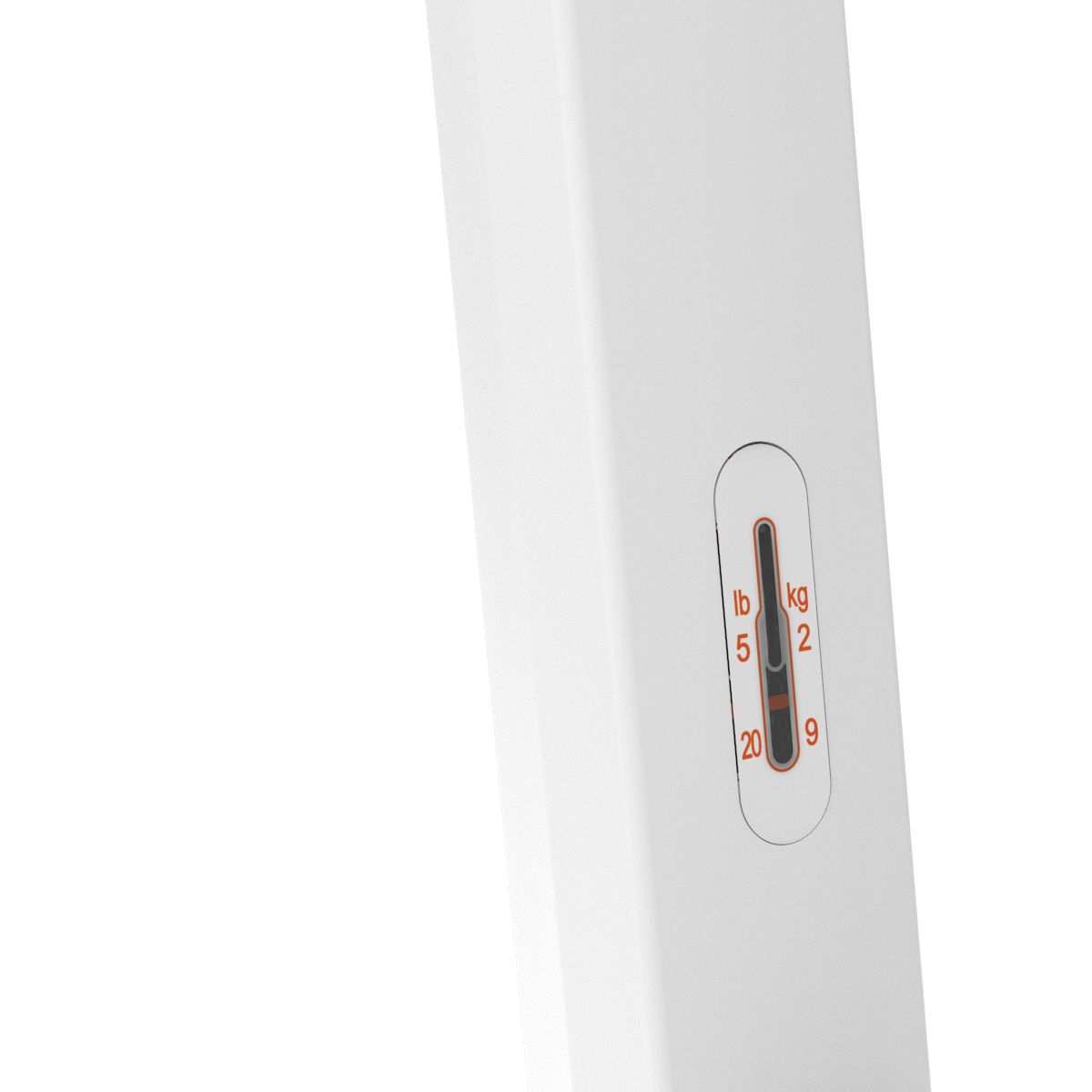 Requirements
Max loading at 2 Kgs (4.4 lbs) ~ 9 Kgs (19.8 lbs)
Available 100 x 100 / 75 x 75 VESA plate
Available ≤ 34" LCD/TV
Available Max screen size: 720 W x 440 H
396 W x 135 D x 169 ~ 440 H
Specifications
Screen Tilt: +90° -40°
Screen Rotation: 360°
Color: Silver-White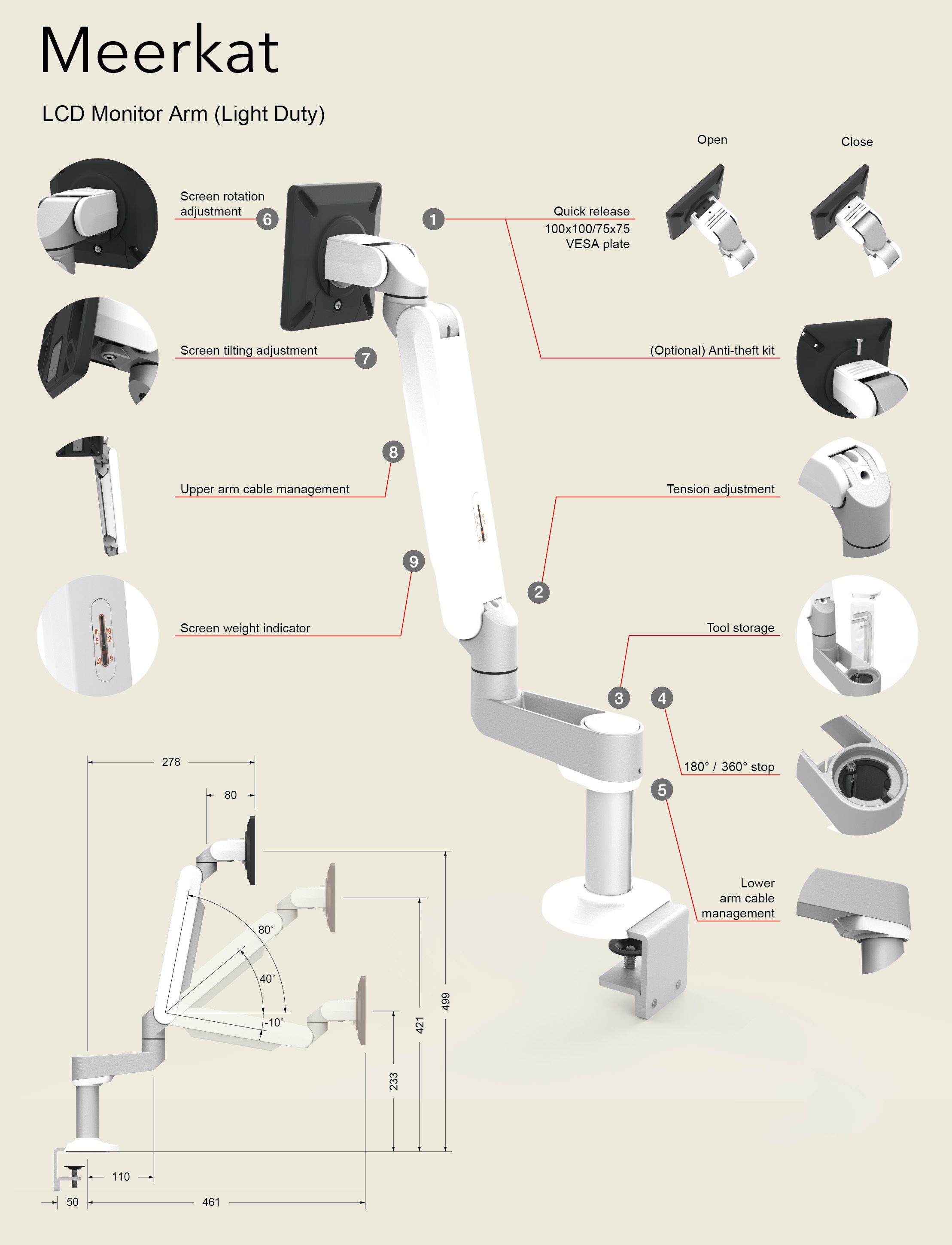 Certification
Taiwan SGS, BIFMA 5.5
Application
Install Eastern Global monitor arm in your office to facilitate content coordination with colleagues or customers, suitable for offices or counters in retail stores, libraries, banks, or real estate, and also facilitate customers to find products.

We sell our products worldwide through several well-known office furniture companies, such as Steelcase, Haworth, Uchida, Vidak, etc., we are also the main monitor arm supplier for Google, it is all because of our excellent quality, outstanding design, and satisfied service.
Why Should You Use the EG Monitor Arm?
Computers, laptops, and tablets are everywhere in every home and office. With the development of these important technologies, they also create some new risks. If you feel neck pain after using and watching these 3C products for a long time, choosing the Eastern Global monitor arm will be your good choice. You can freely adjust the height and angle of the screen and place the screen in the most suitable position. It is convenient for users whether they are sitting or standing, the screen is always in a comfortable state.

Install this monitor arm to any desk for a more flexible and healthier work experience. We also provide different styles of monitor arms for users to choose, and they can choose the appropriate style according to the size and weight of the screen.

If you want to use two or multiple monitors at a time? You can try the Eastern Global Dual Monitor Arm or Triple / Four Monitor Arm, even more. The most we provide is 16 monitors. Users can work without being limited by the screen width, or monitoring multiple screens simultaneously is no longer a problem! Eastern Global monitor arm relies on a simple design to achieve elegant aesthetic concept, adding convenience to all application environments. Regardless which solution you choose, intuitive or dynamic controls operate exactly the same, making it easy for employees to move from screen to screen that each screen can be easily adjusted to meet their needs.
Dual Monitor Arm
If you want to use two screens or more at a time? You can try our Eastern Global Dual Monitor Arm or Triple / Four Monitor Arm, even more. We can provide up to 16 monitors. This allows you to work without being limited by the screen width, or monitoring multiple screens simultaneously is no longer a problem!

As dual screen work becomes more and more the norm in modern workplaces, the ability to adopt these new ways of working is the key to improving user productivity and happiness.
Quick-release and Easy Adjustments
Eastern Global Monitor Arm adopts exclusive and advanced design, the screen can be quickly installed and removed without tools. You only need to fix the VESA plate on the back of the screen, and only need a few screws to complete the operation. After completing this step, you only need one person to easily install or remove the screen, instead of needing other people to help (one person to hold the screen, one person to install the screws). This will greatly reduce labor costs and accelerate decoration speed. In addition, Eastern Global has also designed an anti-theft kit for the monitor arm, so there is no need to worry about the screen being stolen when placed in a public area. The anti-theft kit ensures that your equipment can be displayed safely outside.

Due to the large adjustment range, the screen can be adjusted to a comfortable place according to the position of the user sitting or standing at the time. At the same time, the tilt range is also large, which prevents users from stretching their necks or shrugging their shoulders when looking at the screen - maintaining healthier posture and improving work efficiency. The adjustment range and tilt range are also perfectly compatible with touchscreens and great benefit to those devices with progressive lenses.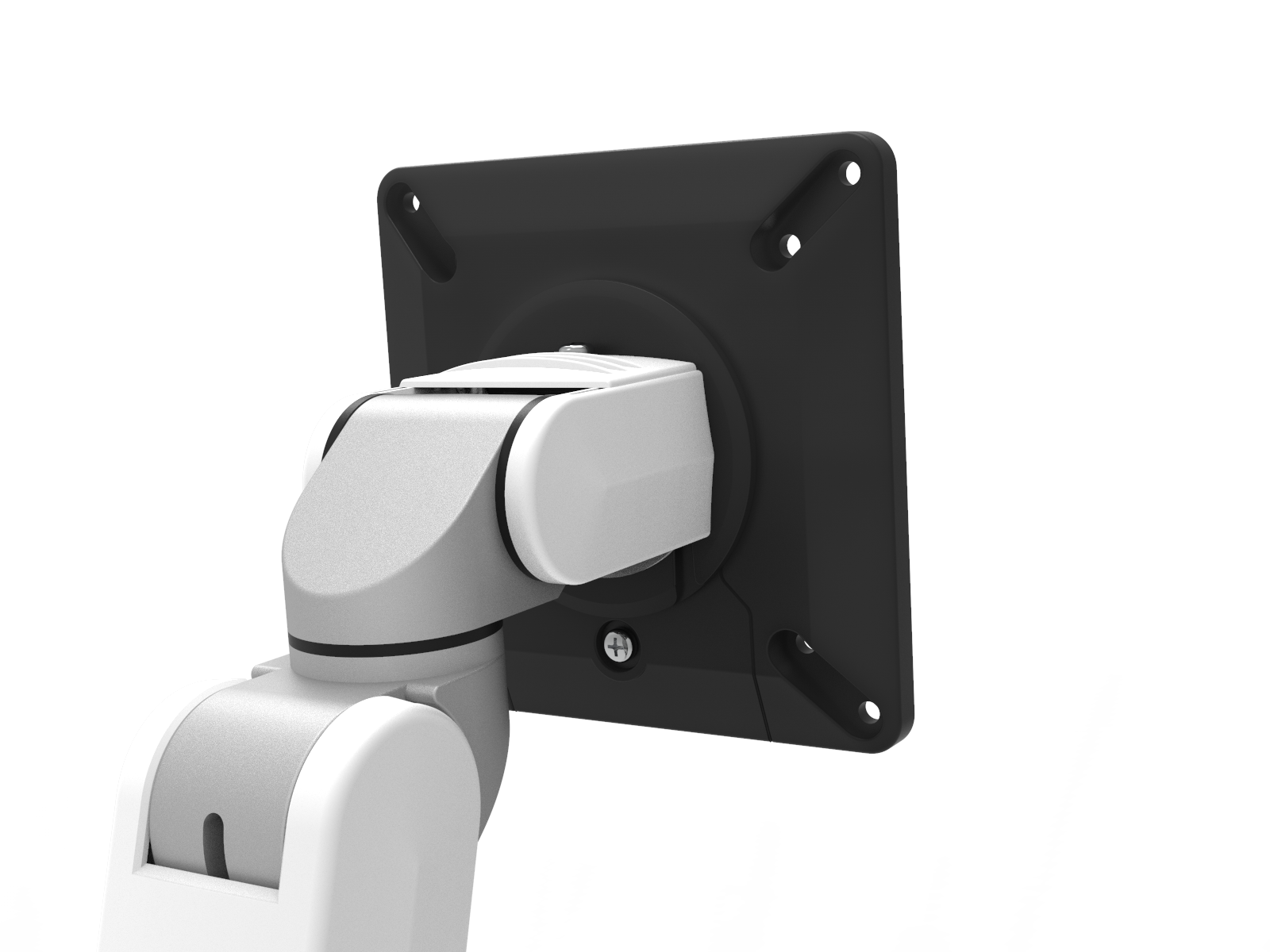 360 Degree Rotation
Eastern Global Monitor Arm can be easily rotated 360 degrees without removing any screws. When you often need to discuss work with colleagues, you can adjust the screen freely and easily. The tension control can also be fine-tuned to hold the screen in the correct, comfortable position. Eastern Global adopts mechanical spring-type, which is easy to move up and down, forward, backward, tilt and rotate to meet the needs of users.
Lightweight and stable – design with mechanical springs
The Meerkat series features easy mobility and adjustment without the need for a knob to fix its position. This is made possible by the presence of an extension spring concealed within the upper arm. Upon initial use, you can insert a hex key into the back of the arm to make adjustments. This ensures that the spring output is balanced with the weight of the screen, allowing for effortless movement and positioning according to your preferences.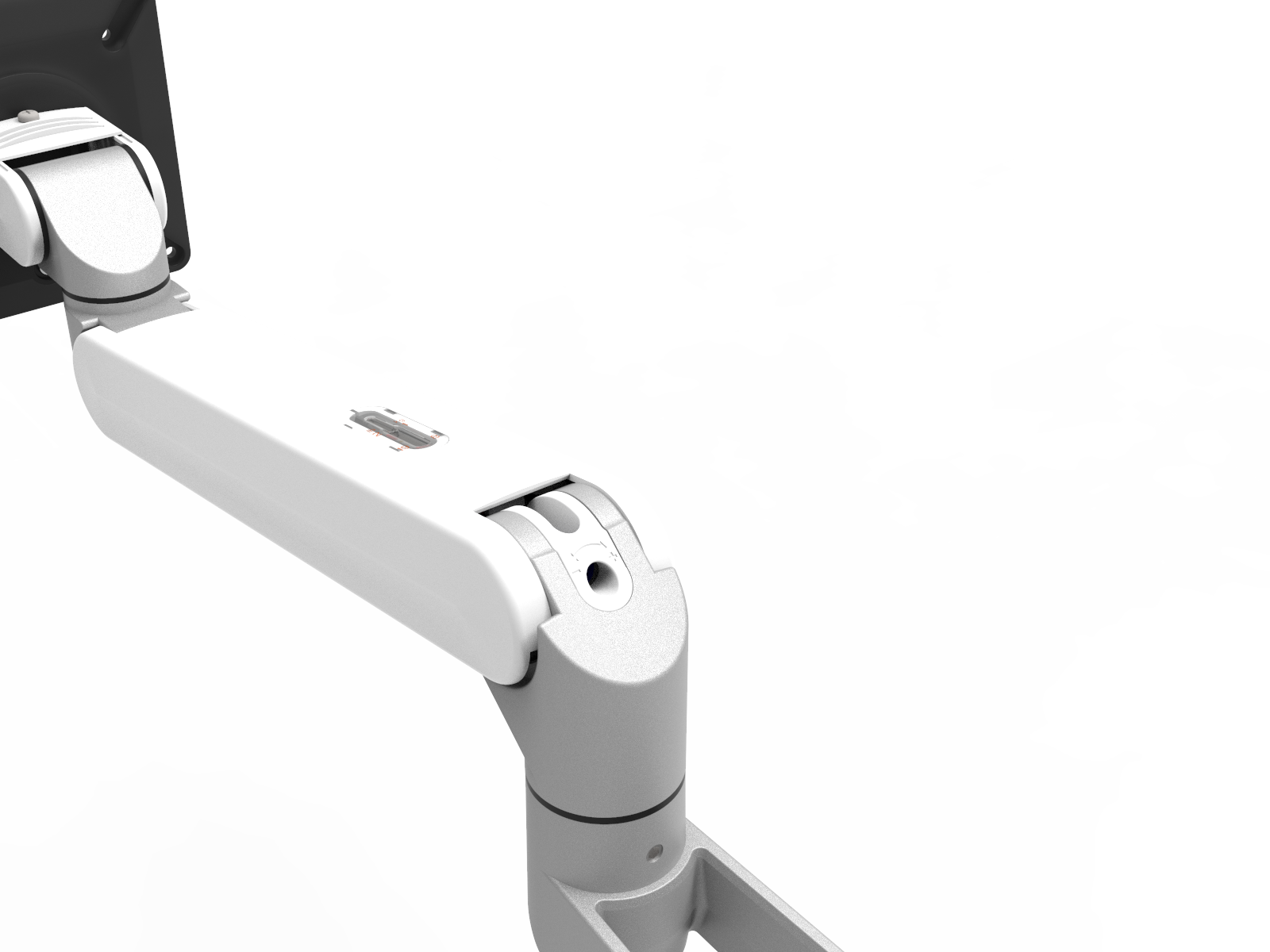 Research-Based Design to Raise Design Standards
Eastern Global Monitor Arm is an ergonomic-related product based on improving the performance and design standards of computer support tools. Eastern Global has received numerous awards, and the Butterfly series of monitor arm have won the Good Design Product Award from the Taiwan Design Center. And won the German iF product design award in 2014 and 2018. In addition, our products have patents in Europe, the United States and China.
In order to make customers trust our company more, we also passed ISO 9001 certification in 2014. Adhering to our philosophy - protecting the environment, all our products are made of environmentally friendly materials that comply with EU RoHS environmental protection standards.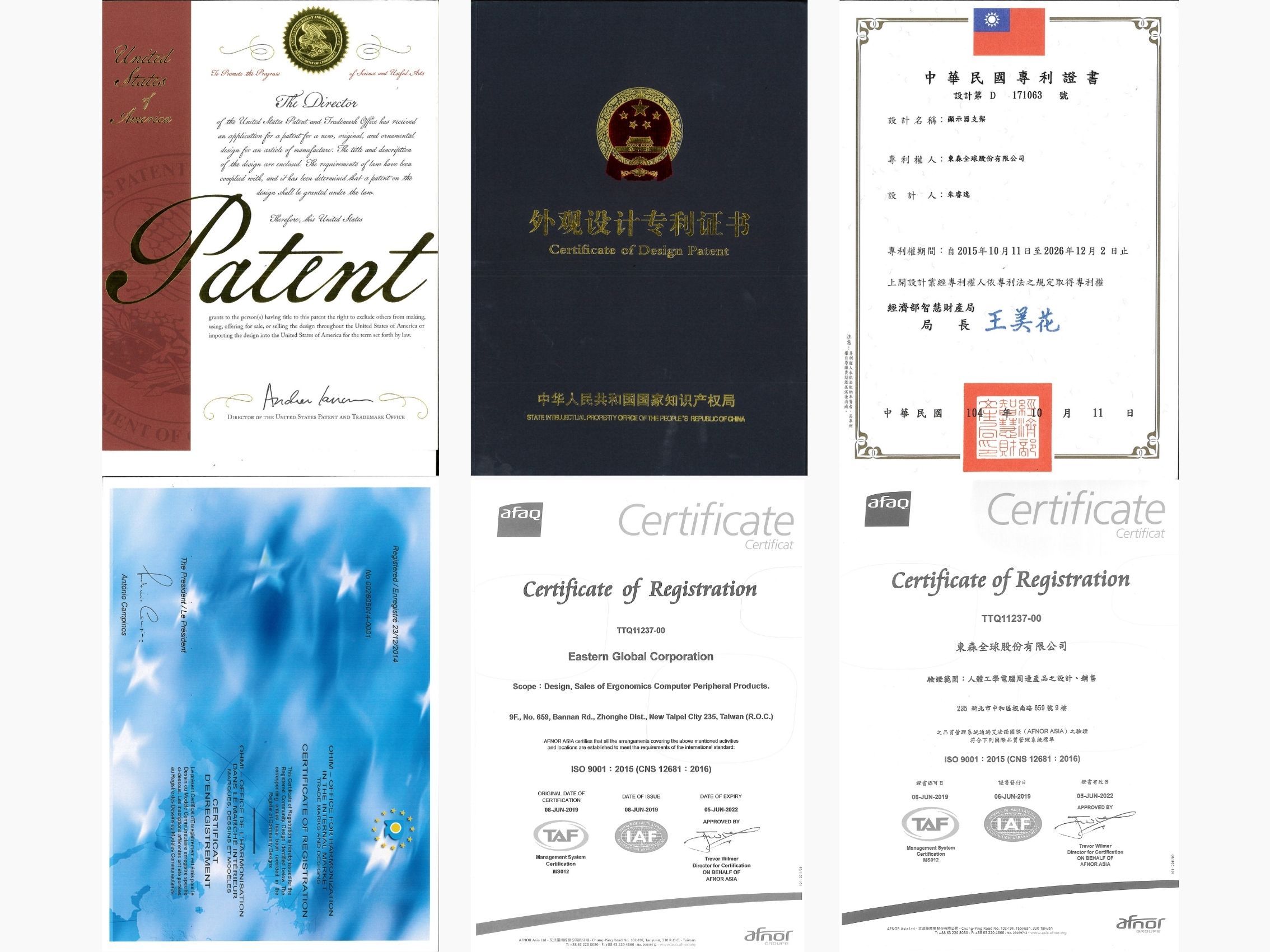 Use with laptop
If you are a fan of working on your laptops, you can use the laptop stand to lift it up to the same height as your sight. This is an additional accessory for Eastern Global Monitor Arm, which is easy to add or remove. When using the laptop on the stand, we recommend using an external keyboard and mouse to avoid wrist discomfort. When working, use our laptop stand to lift the screen so that your eyes can look directly at the screen without stretching your head forward, reducing the pressure on your neck.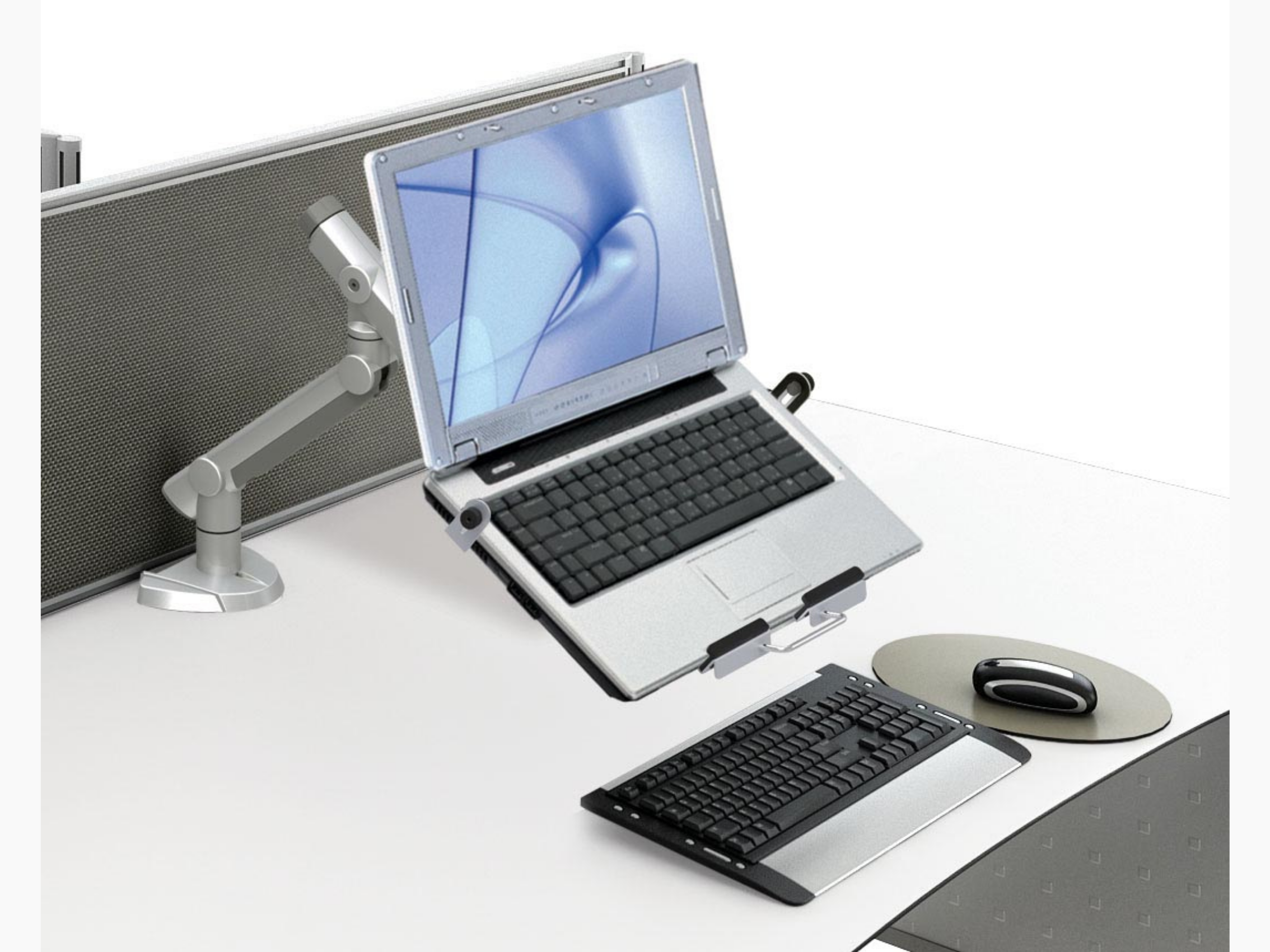 Other advantages of choosing Eastern Global
We have many years of ergonomic project experience and excellent ergonomic product design experience.
We have innovators who specialize in internal product development, continue to develop new products, and move towards the goal of ergonomics industry benchmarks.
We develop high-quality products that can be used for a long time to ensure their sustainability.
If the product stops working, we will provide internal repair services.
Our expert team and on-site personnel will provide you with friendly and competent advice.
Service Process
Pre-sales service: Provide product suggestions, drawing, price estimation, freight estimation, answer customer questions
In-sale services: provide customer solutions, provide product packaging information, suggest delivery methods, and deliver shipping services
After-sales service: customer complaint handling, assembly instructions, delivery documents provision
Delivery
We provide many delivery methods. Samples or small orders are suitable for express delivery (DHL, FEDEX, TNT, SF, etc.). Large orders are suitable for air and sea transportation. We have our own freight forwarders, of course, if you have your own express account or logistics mode, please let us know.
Warranty
3 years
Main Export Market
ASIA, MID-EAST, EUROPE, AFRICA, NORTH AMERICA, CENTRAL AMERICA, SOUTH AMERICA, ASIA-PACIFIC, OTHERS
Solution
Office Furniture / Security Center / Stock Exchange Center / Control Room / Workstation
Manufacturer
Made in Taiwan
Movies
Best Sale
Eastern Global Dual Monitor Arms - Clamp or Grommet Mount for Light Duty Service Introduction
Eastern Global Corporation is Taiwan Dual Monitor Arms - Clamp or Grommet Mount for Light Duty supplier and manufacturer with more than 17 years experence. Since 2006, in the Computer Peripherals Industry, Eastern Global has been offering our customers high quality Dual Monitor Arms - Clamp or Grommet Mount for Light Duty production service. With both advanced technology and 17 years experience, Eastern Global always make sure to meet each customer's demand.
---